Terms of sale
79 000 €
HN* including acquirer
Description
Town / village house for sale in Immo-interactif

Property address: 21 bis rue d'Arsonval 93220 GAGNY



Visits: By appointment.

Terms of sale: The property is presented in Immo-interactif, increasing offers:
- First possible offer : from 79,000 euros (negotiation fees included)
- Next increasing offers : multiples of 1,000 euros.
- Receipt of offers : from 4/21/21 3:00 PM to 4/22/21 3:00 PM on the website Immobilier.notaires®.

Immobilier.notaires® : Value, buy & sell with notaries everywhere in France. 12.000 notaries, experts and negotiators assist you in your real-estate project with confidence.
| | |
| --- | --- |
| Old/New | Old |
| Living space | 20.68 m² |
| Land area | 189 m² |
| Number of rooms | 2 |
| Number of bedrooms | 1 |
| Situation locative | Libre |
| Parking | Yes |
| Reference | GAGNY VNI |
| Date updated | 31/03/2021 |
Energy performance certificate
Energy class : F (445)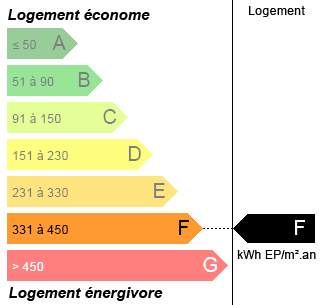 Greenhouse gas emissions : D (23)